Celebrate Freedom Week was established in 2003 to highlight the values and ideals on which the United States of America was founded. It coincides with September 17, the date in 1787 when the  Constitutional Convention signed the US Constitution.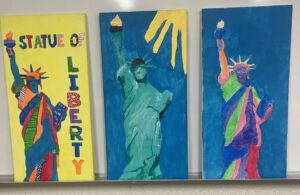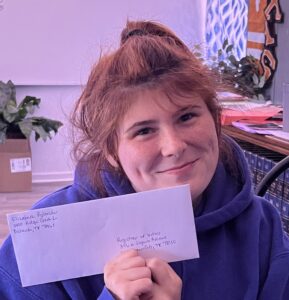 There are a variety of ways each of our schools can participate. Some campuses choose whole school events while others participate at the classroom level. UT Elementary kicked off the week at their Monday morning assembly with "Red, White and Blue Day" where students were encouraged to wear red, white and blue clothing.  Teachers Brenda Hall and Michelle Murray at UT Charter School's Pathways campus taught about symbols of our freedom and had students create their versions of the Statue of Liberty. SJRC student Elizabeth chose to use this symbolic week to register to vote.
Celebre la Semana de la Libertad
Celebrando la semana de la Libertad – Celebrate Freedom Week se estableció en 2003 para resaltar los valores e ideales sobre los que se fundaron los Estados Unidos de América. Coincide con el 17 de septiembre, fecha en 1787 cuando la Convención Constitucional firmó la Constitución de los Estados Unidos.
Hay una variedad de maneras en que cada una de nuestras escuelas puede participar. Algunas escuelas eligen eventos para toda la escuela y otras participan a nivel de salón de clases. Escuela Primaria de UT comenzó la semana en su asamblea del lunes por la mañana con el "Día rojo, blanco y azul", donde se animó a los estudiantes a usar ropa roja, blanca y azul. Las maestras Brenda Hall y Michelle Murray del campus Pathways de la Escuela Charter de UT enseñaron sobre los símbolos de nuestra libertad e hicieron que los estudiantes crearan sus versiones de la Estatua de la Libertad.