Teacher Randy Jackson retired this summer after an amazing career as a teacher and a beloved member of the Texas NeuroRehab Center campus (TNC). Mr. Jackson worked for TNC for 42 years and he joined the charter school when it opened on the campus.
Mr. Jackson taught vocational and Career Education and he was integral part of the TNC community. TNC Principal Kris Ann Schmidt said: "Randy is one of the most sincere, hardworking and kindest people I have ever known.  His dedication and love for the students at TNC goes unmatched and he has made a difference in countless students' lives over his years in education.  He was truly the glue that held us together and his presence will be missed every day."
To honor Randy's unique contributions to TNC, at his retirement party, the campus unveiled that they had named the TNC Career Education Center in his honor. For years to come, when students enter the building that bears his name, they will know that they are taking steps to improve their lives through education.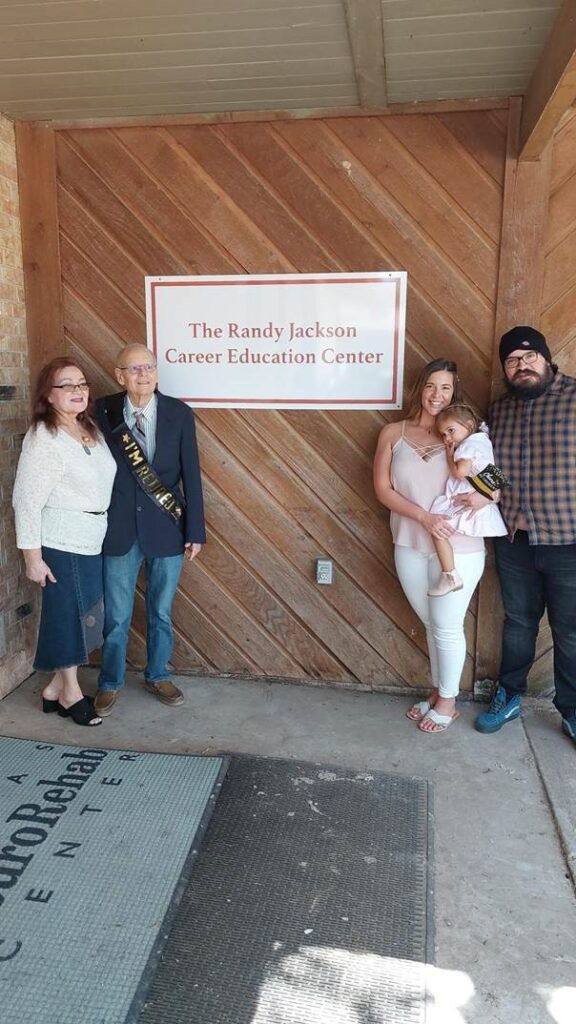 El maestro Randy Jackson se retira de TNC
El maestro Randy Jackson se jubiló este verano después de una increíble carrera como maestro y miembro querido del campus del Texas NeuroRehab Center (TNC). El Sr. Jackson trabajó para TNC durante 42 años y se unió a la escuela chárter cuando abrió sus puertas en el campus.
El Sr. Jackson enseñó educación vocacional y profesional y fue parte integral de la comunidad de TNC. La directora de TNC, Kris Ann Schmidt, dijo: "Randy es una de las personas más sinceras, trabajadoras y amables que he conocido. Su dedicación y amor por los estudiantes de TNC es inigualable y ha marcado la diferencia en la vida de innumerables estudiantes durante sus años de educación. Realmente fue el pegamento que nos mantuvo unidos y extrañaremos su presencia todos los días".
Para honrar las contribuciones únicas de Randy a TNC, en su fiesta de jubilación, el campus dio a conocer que habían nombrado el Centro de Educación Profesional de TNC en su honor. En los próximos años, cuando los estudiantes ingresen al edificio que lleva su nombre, sabrán que están tomando medidas para mejorar sus vidas a través de la educación.