2022 Staff of the Year: Edith "Edie" Todd
Registrars are critical to schools. Because schools are in part funded by student attendance and achievement, keeping those records are vital to all schools and their accuracy is incredibly important to every student.
Edie Todd, UT-UCS' Staff of the Year is a registrar for our San Antonio campuses and she understands how vital her role is as well as how unique it is. When asked about her job, Edie explained: "I have spent a lot of time cultivating relationships with the districts and schools that we receive students from and send students back to.  The majority of the schools are very understanding and supportive of what we do and want the best for their students.  I have personal cell phone numbers and email addresses of several registrars that I deal with on a weekly basis."
Edie also understands her role in helping students understand their academic needs during times of fluctuation. "I am usually the first person new students meet with on the campus, so I try to explain the program to them.  I reassure them that we will work with them to keep moving forward with their education during their time with us."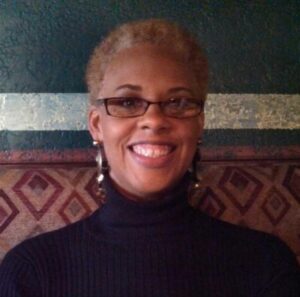 When asked why she thinks she is good at a profession that deals with so many deadlines and many minute details she said: "I have always been a very organized person. I come from a military background (mother, father and both brothers) so I grew up in a very structured environment. I make excel spreadsheets for EVERYTHING!"
At UT-UCS we are grateful for Edie's meticulous nature and we are very happy that she is the UT-UCS Staff of the Year.
Personal del año 2022: Edith "Edie" Todd
Los registradores son fundamentales para las escuelas. Debido a que las escuelas están financiadas en parte por la asistencia y los logros de los estudiantes, mantener esos registros es vital para todas las escuelas y su precisión es increíblemente importante para todos los estudiantes.
Edie Todd, Personal del Año de UT-UCS es registradora de nuestros campus de San Antonio y comprende cuán vital es su papel y cuán único es. Cuando se le preguntó acerca de su trabajo, Edie explicó: "He pasado mucho tiempo cultivando relaciones con los distritos y escuelas de los que recibimos estudiantes y a los que enviamos estudiantes. La mayoría de las escuelas son muy comprensivas y apoyan lo que hacemos y quieren lo mejor para sus estudiantes. Tengo números de teléfono celular personales y direcciones de correo electrónico de varios registradores con los que trato semanalmente".
Edie también entiende su papel en ayudar a los estudiantes a comprender sus necesidades académicas durante tiempos de fluctuación. "Por lo general, soy la primera persona con la que se encuentran los estudiantes nuevos en el campus, así que trato de explicarles el programa. Les aseguro que trabajaremos con ellos para seguir avanzando en su educación durante el tiempo que estén con nosotros".
Cuando se le preguntó por qué cree que es buena en una profesión que lidia con tantos plazos y tantos detalles minuciosos, dijo: "Siempre he sido una persona muy organizada. Provengo de un pasado militar (madre, padre y ambos hermanos), así que crecí en un ambiente muy estructurado. ¡Hago hojas de cálculo de Excel para TODO!"
En UT-UCS estamos agradecidos por la naturaleza meticulosa de Edie y estamos muy contentos de que sea el personal del año de UT-UCS.