In February 2022, students of our Methodist Children's Home (MCH) campus in Waco toured McLennan Community College (MCC) as part of the OnRamps class. OnRamps is a state-wide initiative of UT Austin designed to expand access to postsecondary education by building partnerships with teachers, schools and postsecondary institutions across the state.  OnRamps offers "dual credit" courses for students to earn college credit while still in high school and prepares them for the expectations of college and university.
MCH teacher Anthony Suter is one of UT Charter School's OnRamps certified teachers. Earlier this month, Mr. Suter took MCH students to MCC to take a look into college life. MCH youth were introduced to various departments including technology, business, science and health. There were also a few MCH alumni who are now current MCC students spotted on campus! Many thanks to McLennan Community College for being a great community partner and helping our students prepare their next steps toward higher education.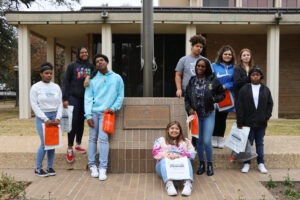 Clase OnRamps del Hogar Infantil Metodista Metodista (Methodist Children's Home)
En febrero de 2022, los estudiantes de nuestro campus de Hogar Infantil Metodista (Methodist Children's Home) (MCH) en Waco recorrieron McLennan Community College (MCC) como parte de la clase OnRamps. OnRamps es una iniciativa estatal de UT Austin diseñada para ampliar el acceso a la educación postsecundaria mediante la creación de asociaciones con maestros, escuelas e instituciones postsecundarias en todo el estado. OnRamps ofrece cursos de "crédito doble" para que los estudiantes obtengan créditos universitarios mientras aún están en la escuela preparatoria y los prepara para las expectativas de la universidad.
El maestro de MCH, Anthony Suter, es uno de los maestros certificados de OnRamps de la Escuela Charter de UT. A principios de este mes, Mr. Suter llevó a los estudiantes de MCH a MCC para echar un vistazo a la vida universitaria. Los jóvenes de MCH conocieron varios departamentos, incluidos tecnología, negocios, ciencia y salud. ¡También hubo algunos ex alumnos de MCH que ahora son estudiantes actuales de MCC que fueron vistos en el campus! Muchas gracias a McLennan Community College por ser un gran socio de la comunidad y ayudar a nuestros estudiantes a preparar sus próximos pasos hacia la educación superior.