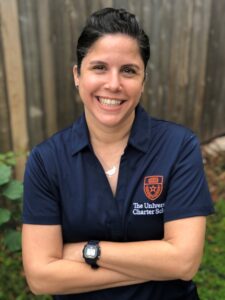 To help UT University Charter School teens prepare for life after high school, our district recently hired Dr. Lucy Vélez as our College & Career Transition Coordinator. This new position will facilitate our district's efforts to provide accessible postsecondary information for students, staff and parents. Lucy explained that the unique nature of our school district, as well as the specialization of each campus, emphasizes the increased need for individualized and equitable support for each potential graduate.
Over the past few weeks, Lucy met with principals and teachers to learn what processes are already in place at each secondary-level campus. UTUCS has had graduation counselors to assist our seniors with postsecondary goals, but this is the first concerted effort to centralize policies and procedures. "We will work to ensure not only that equitable information is provided across the district but also that we address any structural barriers present." Dr. Vélez explained.
Lucy comes to our district with training in education including: Special Education, Adult Secondary Education, Teacher Education and College Mentorship Programs, a breadth of experience that encompasses the gamut of needs our students may encounter. During her career, she has mentored first generation college students and college students who have experienced foster care in Texas and Michigan.
One of the priorities she will begin with is ensuring our counselors, principals and teachers have the information they need to provide our students with accessible and individualized guidance. "'What do you want to do when you grow up?' is a very personal question," she said. Building on the trust that teachers and principals often grow with students will be the foundation of her efforts to facilitate college and career readiness across the district.
Welcome to UT University Charter School Dr. Vélez and we look forward to seeing you around our campuses!
Presentando a la Dra. Lucy Vélez
Para ayudar a los estudiantes de la Universidad de Escuelas Charter UT a prepararse para los planes después de la escuela preparatoria, nuestro distrito contrató recientemente a la Dra. Lucy Guevara Velez como nuestra nueva Coordinadora de Transición Universitaria y Profesional. Esta nueva posición coordinará los procedimientos de nuestro distrito para capacitar a los estudiantes con un plan claro para la graduación y una variedad de opciones postsecundarias.
Lucy explicó que la naturaleza única de nuestro distrito escolar, así como la especialización de cada campus, enfatiza la creciente necesidad de apoyo individualizado para cada graduado potencial. Durante las últimas semanas, Lucy se ha reunido con los líderes del campus para conocer los procesos que ya existen en cada campus de nivel secundario.
UTUCS siempre ha tenido consejeros para ayudar a nuestros adultos mayores con planes postsecundarios, pero este es el primer esfuerzo concertado para centralizar políticas y procedimientos para garantizar que se proporcione información coherente y equitativa.
La Dra. Velez bromea diciendo que la razón por la que está calificada para este puesto es porque ha estado en la universidad mucho tiempo. Sin embargo, ella llega a nuestro distrito con una amplia experiencia que abarca la gama de necesidades que nuestros estudiantes pueden experimentar. Durante su carrera académica, ha sido mentora de estudiantes universitarios de primera generación y estudiantes universitarios que han salido del sistema de cuidado de crianza temporal.
Una de las prioridades con las que comenzará es garantizar que nuestros consejeros, directores y maestros tengan la información que necesitan para brindarles a nuestros estudiantes una orientación precisa e individualizada. "'¿Qué quieres hacer cuando seas mayor?' Es una pregunta muy personal", dijo. Construir sobre las relaciones personales que los estudiantes imaginen con los maestros y directores será la base para empoderar y alentar a nuestros estudiantes a dar el siguiente paso en su viaje académico personal.
¡Bienvenida a la Universidad de Escuelas Charter UT Dr. Velez y esperamos verla en nuestros campus!