The Student Council at Methodist Children's Home (MCH) conducted a canned food drive for the month of November leading up to Thanksgiving break.
Each homeroom collected cans for about two and a half weeks and then on November 16th, the cans were counted.  Mrs. Patterson's homeroom class collected 196 cans and was rewarded with a breakfast celebration on the last day of school before the Thanksgiving break.
Principal Michelle Meister took the cans to Caritas of Waco where they were weighed. Their donation was 407 pounds of food!  Principal Meister said: "I am so proud of the kids and how they donated to others during this time."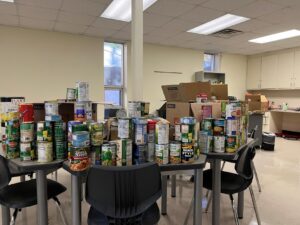 Colecta de alimentos enlatados en el Methodist Children's Home
El Consejo de Estudiantes del Hogar de Niños Metodistas (MCH) llevó a cabo una colecta de alimentos enlatados durante el mes de noviembre antes de las vacaciones de Acción de Gracias.
Cada salón de clases recolectó latas durante aproximadamente dos semanas y media y luego, en Noviembre 16, se contaron las latas. La clase de Mrs. Patterson recolectó 196 latas y fue recompensada con una celebración de un desayuno el último día de clases antes de las vacaciones de Acción de Gracias.
La directora Michelle Meister llevó las latas a Caritas of Waco, donde las pesaron. ¡Su donación fue de 407 libras de comida! El director Meister dijo: "Estoy muy orgulloso de los niños y de cómo donaron a otros durante este tiempo".