The students of SJRC have started a Vegetable Soup Garden.
By Ms. Margaret Womak, ELA teacher at SJRC in Bulverde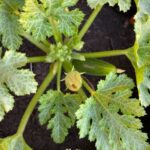 A conversation about food insecurity once they leave care, a situation many of our students have already experienced, was discussed in class, and the students began brainstorming solutions.
They searched (with the help of their teacher) gardening websites, planting charts, and alternative methods of gardening. Many talked about apartment life, and the lack of garden space. Again, the conversation turned to what they could do.
The students identified what vessels they could plant in that would be free, no cost, or something that they already owned. Trash cans, laundry baskets, and old milk crates were discussed. The milk crates where plentiful, available, and free at SJRC, and one of the school buildings has a balcony of sorts. The students have turned their balcony into a Vegetable Soup Garden to feed themselves and their children. They have planted potatoes, tomatoes, green beans, squash, and cabbage so far. They are looking forward to planting carrots. They are also looking forward to the harvest, making their soup, and saving the seeds for their next growing season!
Huerto De Sopa De Verduras En SJRC
Por Ms. Margaret Womak, maestra de ELA en SJRC en Bulverde
Los estudiantes de SJRC han comenzado un huerto de verduras. Una conversación sobre la inseguridad alimentaria una vez que dejan el cuidado, una situación que muchos de nuestros estudiantes ya han experimentado, se discutió en clase y los estudiantes comenzaron a pensar en soluciones.
Buscaron (con la ayuda de su maestro) sitios web de jardinería, gráficos de plantación y métodos alternativos de jardinería. Muchos hablaron sobre la vida en un apartamento y la falta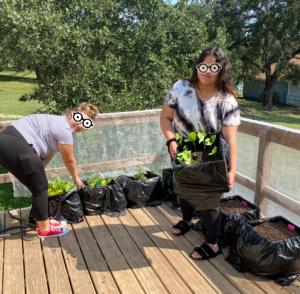 de espacio en el jardín. Una vez más, la conversación se centró en lo que podían hacer.
Los estudiantes identificaron en qué vasijas podrían plantar que serían gratis, sin costo o algo que ya poseían. Se discutieron los botes de basura, las canastas de lavandería y las cajas de leche viejas. Las cajas de leche eran abundantes, disponibles y gratuitas en SJRC, y uno de los edificios de la escuela tiene una especie de balcón. Los estudiantes han convertido su balcón en un huerto de verduras para alimentarse a sí mismos y a sus hijos. Han plantado papas, tomates, judías verdes, calabazas y repollo hasta ahora. Están deseando plantar zanahorias. ¡También esperan la cosecha, preparan su sopa y guardan las semillas para su próxima temporada de cultivo!