Welcome to Andrea Menchaca, UT Charter School System's new SEL Coordinator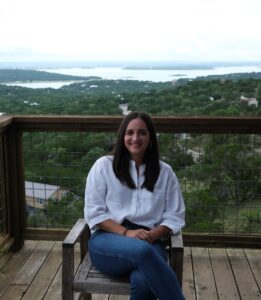 UT Elementary has been a national leader in Social-Emotional Learning for a long time.  Social-Emotional Learning, or SEL for short, teaches children to recognize and identify the emotions that they, their classmates or their family members may be feeling. Then, they are taught the skills to deal with or respond to those emotions properly and how to show empathy for others with the ultimate goal of growing into caring adults and building healthy relationships.
To help guide both UT Elementary and UT University Charter School as our system is deepening SEL at all campuses in response to the trauma of the last three academic years, the system has hired an SEL Coordinator to oversee the implementation and manage the outcomes of the program.
We are excited to introduce Andrea Menchaca as our new SEL Coordinator. Andrea has worked with youth in trauma for 15 years. For the last 6 years, she was the Charter School Director at Austin's SAFE Alliance where she oversaw the social, emotional, behavioral and educational support for the students living in a domestic violence shelter and youth in foster care.
Andrea said about her new role: "It is crucial for all students to have access to Social Emotional skills and development. One goal is to support our schools by implementing SEL opportunities that meet the unique needs of the students at each individual campus. In addition, an equally important goal is to strengthen teacher and adult social and emotional learning competencies and capacities. The teachers in this district do so much to meet the needs of the students and one of my top priorities will be supporting their social and emotional needs and ensuring they have the knowledge and resources to provide students with excellent classroom and school-wide SEL."
Our system is very lucky to have a staff person who can oversee the implementation of SEL across our schools. And we are grateful to have someone with talents and experience of Andrea.