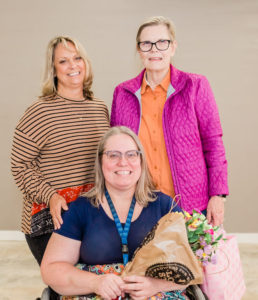 Sarah Mahoney first started working with young people as a counselor at a summer camp for handicapped kids. Sarah, who uses a wheelchair for mobility assistance, said that she has been a recipient of services since she was three. She said that she chose to become a special needs teacher because: "I knew how to do it. It made sense."
In her nominations, the common theme was that Sarah has a very positive attitude. Sarah explained: "I don't want to be anywhere and have a bad day and the kids don't want to have a bad time."  Sarah and the team at Pathways have learned to build in things to look forward to such as small celebrations and building connections with the students.
Her nominators also mentioned Sarah's commitment to Experiential Learning – aka: Field Trips.  Field Trips offer students hands on activities, the chance to explore new cultures and opportunities to see places for themselves. Sarah said that it is important to her because for most of the students at her school: "their parents never took them anywhere and they have never seen anything. When we go to the Alamo and they can hold a cannonball. They are serious about it and it's the stuff many people take for granted." She added: "Because our school is so isolated ,it is important that we make opportunities for them to see new things, to try new things and to give them something to look forward to."
Pathways is located in Mountain Home, not too far from the site of the Kerrville Folk Festival. This connection is a benefit that Sarah brings to her classroom. Sarah is a co-crew leader for the security at the Festival and she has built a bridge between the two worlds by inviting performers from the festival into her classroom.
Usually, on the last day of school, performers from the Festival, such as Ken Gaines or David Lamont host a songwriting workshop for the students in the morning, have lunch with them and then perform newly composed songs at a talent show during the school's awards assembly.
Sarah's commitment to providing her students with unique experiential learning opportunities and offering them frequent "little celebrations" is why she is The UT Charter School 2019-2020 Teacher of the Year.