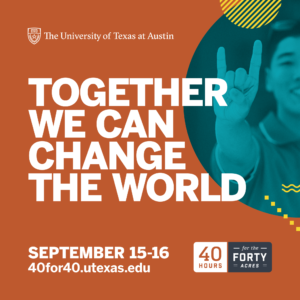 UT Charter Schools partners with residential facilities that are serving students who have specialized needs. Many of our schools educate children who are living in group foster care settings. Some are hospitals that provide education while the young person is in recovery. A few are maternal care programs that serve pregnant and parenting teens. Others are shelters for victims of abuse, neglect or human trafficking. One campus is even tailored around the special needs for students who participating at the elite level in competitive gymnastics. Needless to say, our campuses are as unique as our students.
Access to technology has never been more important. UT Charter Schools has always incorporated technology into our classes but it is imperative for each student to have updated and proper computers now. Each of our students must have their own device and our district is struggling to accommodate.
40 hours for the Forty Acres is UT Austin's seventh annual fundraising event when over the span of 40 hours, the Longhorn Nation is encouraged to give to the UT people, places and programs that are meaningful to them and that make UT Austin special. UT Charter Schools is participating this year and we are fundraising to purchase computers for students.
We are asking our friends and supporters to help us purchase additional Chromebooks for our students to ensure a 1:1 ratio. We can purchase computers for just $350, so even a donation of just $10 helps! Please know that all of your donation during 40 for Forty will go to purchase computers!  There are no credit card or administrative fees so 100% of your donation will be used to get computers for the students!
To donate, please visit our 40 for Forty page here: https://40for40.utexas.edu/giving-day/19787/department/25257