Each year the University of Texas Charter School (UT-UCS) educates approximately 3,000 students with a focus on the whole child. The success of the school, which received an "A" rating from the Texas Educational Agency, is remarkable given the serious challenges its students face every day. "Our students don't have to choose between education and mental health," says Superintendent Melissa M. Chavez. "We provide support for both."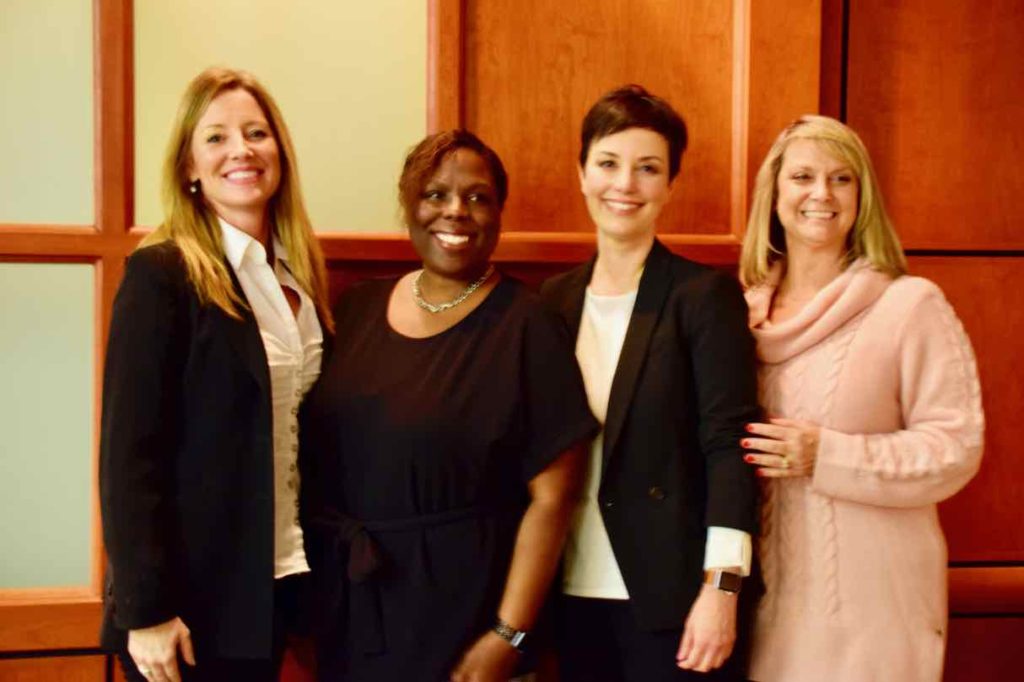 Chavez and her team of 200 faculty and staff members work at 24 sites that are located in foster and resident child care facilities, medical and psychiatric care facilities, and in substance abuse and recovery programs. The one exception is the Olympia Hills Gymnastics program site. Chavez and three UT-UCS administrators—Nicole Whetstone, Holly Engleman and Melissa Ruffin—spoke recently about Exemplary Practices in K-12 Alternative Education as part of the Division of Diversity and Community Engagement Lecture Series on the University of Texas at Austin campus.
Examples of the foster care facilities include the Helping Hands Home, which focuses on children awaiting adoption, and the Settlement Home which houses young women who have suffered extreme neglect and abuse. Medical sites include Texas NeuroRehab Center, which cares for children with traumatic brain injuries and Texas Shriner's Hospital, which serves K-12 students with a host of orthopedic and neuromusculoskeletal disorders and diseases.
The students' educational challenges center around what types of trauma they have experienced.  Notably, 50-70% of the students have been exposed to trauma. High mobility rates and movement in and out of the foster care system present other challenges. Chavez says, "Most of the students have lost educational opportunities through multiple placements and mobility. Some students may have already been in eight to ten school districts." The overall mobility rate for UT-UCS is 88%, though it varies by campus. For example, students in Helping Hands, Settlement Home and Texas NeuroRehab generally stay on site for 2-3 years. Other sites, such as Laurel Ridge in San Antonio which treats patients for mental illness diagnoses and addiction, may educate students for mere months.
Chavez credits the success of UT-UCS with the development of good relationships with the facilities where sites are located and the school's outstanding teachers. Principals and teachers are expected understand their facility's culture and mission. They must also become educated regarding the treatment or recovery process as they are partners in that process and in trauma-informed care.  UT-UTC teachers often hold multiple accreditations, are certified in multiple subjects and possess cultural competencies. For example, at University High School, which serves students in recovery from drug and alcohol abuse and addiction, there are only two teachers.  One is certified in STEM areas; the other in language arts and social studies. Both have certifications in ESL and special education.
Additionally, with a high teacher retention rate of 85%, Chavez says it is clear that the UT-UCS teachers love their work. But she and the UT-UTCS principals work hard to help teachers avoid burnout and secondary trauma. Principal Holly Engleman conducts one-on-one check-ins with teachers every other week. She also reports that it is helpful to know all of the teachers and students at a site, something which is often impossible for principals at large schools.  Assistant Superintendent Nicole Whetstone believes UT-UCS has good administrators to listen and talk teachers through tough situations along with adequate professional development and
dditional modeling and coaching when needed. Chavez concurs that her principals are highly effective. "They have all worked in larger ISDs and have access to resources and research at UT Austin," she says.
All of the UT-UTCS teachers have been trained in restorative discipline, or "restorative circles" as Whetstone prefers to call the philosophy that focuses on a whole-school, relational approach to developing school climate and addressing student behavior. It focuses on belonging over exclusion, on social engagement, and on accountability instead of punishment. "We don't remove students for minor infractions," says Chavez. "We try to be proactive, to find a solution to meet the individual student's needs."
A big part of Chavez and Whetstone's vision for the charter sites involves creating a sense of normalcy for all students, such as participation in field trips, school performances and recognition ceremonies as well and in outdoor activities such as horticulture and caring for animals. "We try to find opportunities for our students to shine in different ways. Very often our students have never had the experience of participating in ceremonies to honor the students," explains Whetstone. "And they love it."