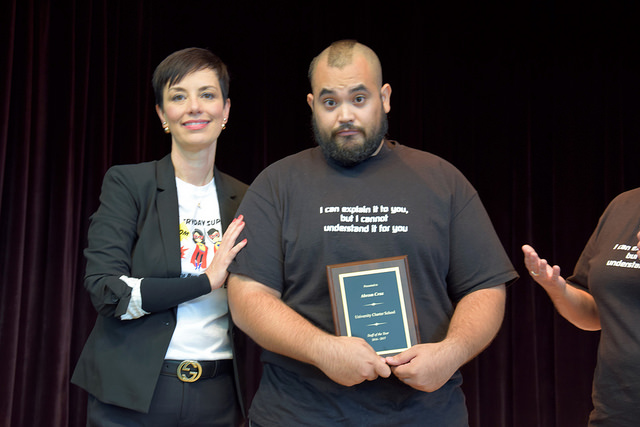 On any given workday, Abram Cruz is on the move. When he's not at UT Elementary School helping teachers and staff with their technology needs, he's busy providing IT services at one of the many UT-University Charter School (UT-UCS) campuses.
The best part of the job, he says, is watching the learning unfold in various classrooms.
"I love getting to travel between all the campuses and getting to see the students in the classrooms," Cruz says. "There is always something fun going on and they always express interest in who I am and what I do. And it's fun seeing them get excited when their technology starts working again."
Cruz's job duties include replacing, repairing and deploying technology as needed, and maintaining equipment (computers, web filters, servers, etc.) at all of the campuses. When it comes to technology, he says every day is a learning experience.
"I'm exposed to so much that's new in technology and always get to learn a new system or process that I wouldn't have been able to otherwise," Cruz adds.
When it comes to technology, not every service request is a quick fix. However, nothing beats the feeling of a job well done after Cruz successfully completes even the toughest tasks.
"I had a long, ongoing project setting up an interactive projection system in a classroom and it had been an absolute struggle," he says. "But once I was finally able to get it working the teacher sent me this great photo from the students. They were so excited and thankful to be able to use it and it really enforced why I enjoy what I do and who we do it for."
Cruz attributes much of his success to his parents who cultivated his love of learning at an early age.
"My mom went into teaching when I was young, so I've felt comfortable in an educational setting early on," Cruz adds. "And my dad always encouraged me to learn and play with technology so it just kind of meshed perfectly."