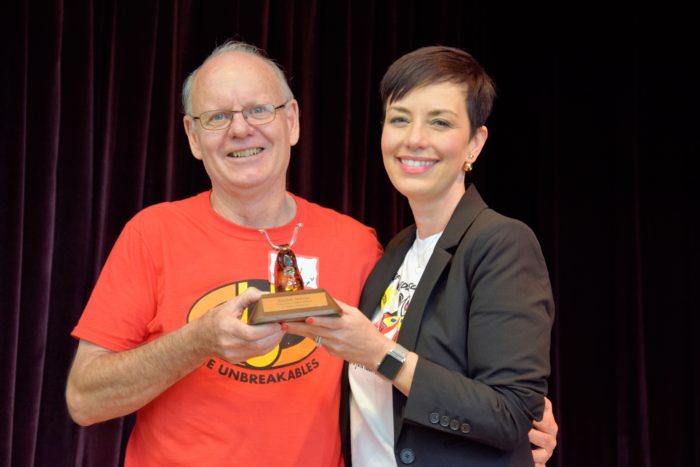 Before embarking on his decades-long career in teaching, Randall Jackson found his passion for helping others while working in hospitals and in the U.S. Peace Corps. When deciding on a college major, he realized the best way to continue his good work was to teach.  Now, 15 years into his career at the University of Texas University Charter School (UT-UCS), he knows that he found his true calling.
"I really enjoy working with kids and young adults, especially to see them become self-motivated to grow and learn and to challenge themselves to think about their future and how they can succeed and make an optimum impact for themselves and their community," Jackson says.
At a campus located within the Texas NeuroRehab Center in Southwest Austin, he's helping students with brain injuries and neuro-behavioral disorders (grades 6-12) prepare for the career world. His courses include General Business and Career Exploration in South Austin.
"It is exciting to see the students learning new concepts and applying those ideas in their creativity and productive projects," Jackson adds. "I really enjoy conducting future planning interviews with the students and working with them to map out realistic goals for their career."
Although his work is challenging, the rewards far offset the long hours in the classroom.
"The most memorable moments during my teaching career are the moments when a struggling student is able to realize his or her potential by completing a project, solving a problem or starting to develop a skill."
In a profession that's often associated with the word "hero," Jackson says the real heroes are his students, many of whom have experienced trauma, displacement and illness.
"Even in the face of adversity, these kids continue to show up, try their best and take small steps toward their learning goals on a daily basis," Jackson says. "And even given setbacks, they reach out and we pull them up and they show a great inner resilience to continue their journey to become a better student and to contribute, in some way, a part of their God-given talents to the community. In these moments we as educators can say, "This is why we love our job!'"
While helping his students along the twists and turns of their academic journey, he always keeps a quote in mind from "60 Minutes" commentator Andy Rooney.
"I've learned that, 'I can always pray for someone when I don't have the strength to help him in some other way.'"
Looking back at his storied teaching career, which began in 1978, Jackson is grateful for his supportive friends, family members and colleagues.
"I would like to attribute the true reason to my success and resilience to my best friend and loving wife , Terezinha, who not only supports me in all aspects ,yet challenges me to do my best at work and at home," Jackson notes. "Also we give thanks for our daughter Margaret, our son-in-law Matthew and our son Randall II. In addition I would like to give thanks for the support the staff receives from UT-UCS personnel and from all of our colleagues at TNC. I feel very blessed to work with some of the best staff and students in our area!"