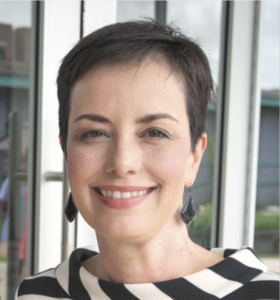 Dear UT-University Charter School Family,
Last summer, I watched a Disney movie starring a little blue fish who kept reminding herself to "just keep swimming" as she faced countless obstacles on her homeward-bound journey. In our charter schools, our students are on a journey of their own as they push forward with their studies while navigating their own unique life challenges.
When I think of the tireless efforts of our faculty and staff, Dory's sing-song mantra, "Just keep swimming," comes to mind. When the going gets tough, they forge ahead, not allowing themselves to lose momentum.
I see that momentum building when I visit their campuses. Despite what these students have been through, I see them smiling, laughing and actively engaging with their teachers. We can all learn a lot from their resilience. That's why I chose a book titled "The Resilience Breakthrough: 27 Tools for Turning Adversity into Action," as mandatory reading during this school year.
What I learned from this book is that we are all resilient, only some of us are much more adept at tapping into this strength than others. While working on the frontlines with children and adolescents with special needs, it's important to understand the power of resilience. Through resilience education, we can help our students reach the highest level in Maslow's Hierarchy of Needs—self-actualization.
Another favorite line from Disney's "Finding Dory" occurred when an eager group of youngsters jumped on the back of a wise manta ray as they embarked on a new educational journey. When I re ect on the many ways our teachers are turning their classrooms into dynamic learning environments, I think of this line, "Hold on, here we go! Next stop, knowledge!" The stories in this annual report illustrate how our educators are making learning fun and providing individualized care to each and every one of their students. You'll also learn about how we are using innovative research from UT Austin's College of Education to bridge learning gaps and help our students stay on track through Response to Intervention strategies.
I hope you enjoy learning about our work, our faculty and sta and students in this second annual report. And with the addition of four new charter schools, we will have plenty more exciting stories to come!
Sincerely,
DR. MELISSA M. CHAVEZ
Associate Vice President and Superintendent, UT Charter School System