The University of Texas Charter School System is committed to providing ongoing communication regarding district measures taken to assist public health officials in their prevention of COVID-19 (the Coronavirus).  As this is an ongoing situation, we ask that you refer to this page for updates and these websites for additional information.
Fall 2020 District Reopening Plan
On July 20, Superintendent Chavez released the UT Charter School Fall 2020 District Reopening Plan. Due to the frequently changing nature of this situation, the plan will be updated timely and the date of the most recent published version will be noted on this website.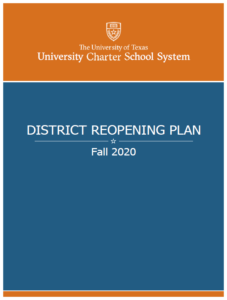 Fall 2020 District Reopening Plan
Plan de reapertura del distrito en español
Contact Information
For COVID-19 related information, please contact the campus principal. For a list of campus principals, please see the list provided. Click on the image for a downloadable pdf.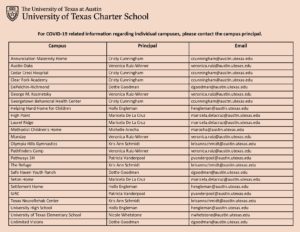 Education Rights and Responsibilities during COVID
Derechos y responsabilidades educativas durante COVID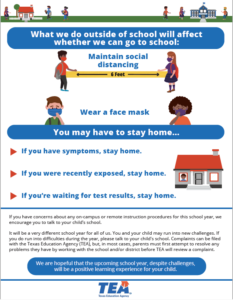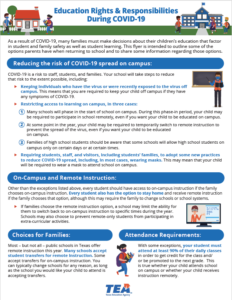 Educational Rights and Responsibilities during COVID Poster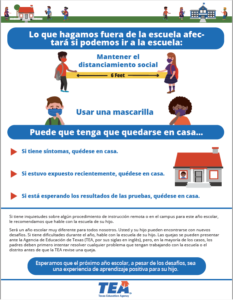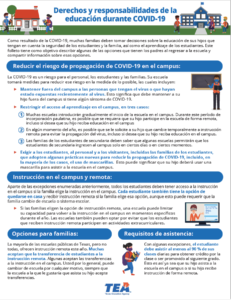 Póster Derechos y responsabilidades educativas durante COVID
Public Health Resources
Click on the image below for additional information from Texas.gov in English and Spanish
Haga clic en la imagen a continuación para obtener información adicional de Texas.gov en inglés y español
Resources for Parents and Caregivers
Resources for Faculty and Staff